Meet JooYoung Choi
Residence May 23, 2018 — June 10, 2018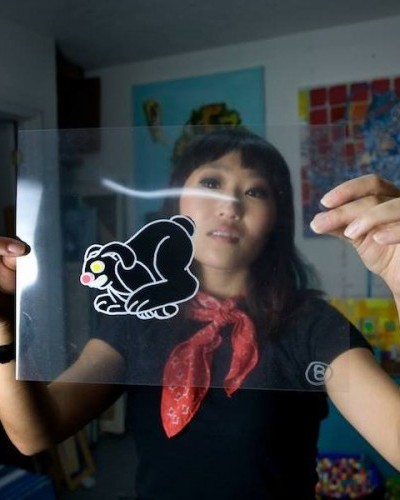 Through painting, video, sculpture, animation, and music, multi-disciplinary artist JooYoung Choi documents the interconnecting narratives of a highly-structured, expansive fictional land called the Cosmic Womb.
This paracosm stretches over approximately 6,732 miles, and is governed by Queen Kiok, with the help of Captain Spacia Tanno, Plan-Genda, Pleasure Vision, six humanoid creatures called Tuplets, Lady K, Aidee Three, Emo Flowers (No. 36), Kun-Yook Six, Lydia "Nine" Fletcher, Haneul-Sek aka Nina Blue and one Earthling from Concord, NH named C.S. Watson).
Guided by the Cosmic Womb mythology, Choi creates work that merges the autobiographic with the fantastic into a visual form.
JooYoung Choi, born in Seoul, South Korea, immigrated to Concord, New Hampshire in 1983 by way of adoption. While completing her BFA at Massachusetts College of Art and Design, she returned to South Korea and reunited with her birth-family. Since receiving her MFA from Lesley University in Cambridge, Massachusetts, Choi's artwork has been exhibited in such venues as Contemporary Art Museum Houston, Project Row Houses, The Wing Luke Museum of the Asian Pacific American Experience, Seattle, Washington; The National Museum of Mexican Art, Chicago, Illinois; and Lawndale Art Center, Houston, Texas.
Choi's work has been featured by numerous media groups and publications, including the PBS Digital Studios Art Assignment, Korean Global News Network YTN, Arts+Culture Magazine, the Houston Chronicle, Glasstire, Houston's PaperCity, Nat. Brut, and the Huffington Post.