Artist INC is a program of Mid-America Arts Alliance (M-AAA). For more than a decade, Artist INC has provided professional development to artists throughout the midwest and beyond building networks, communities, and careers.
Artist INC provides cutting-edge training seminars that address the specific daily business needs and challenges artists of all disciplines face. Limited to twenty-five participants per session, artists gather for one night a week for eight weeks to learn business skills specific to their art practice.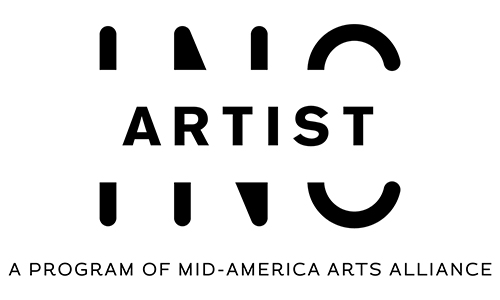 Artist INC seminars provide artists of all disciplines professional development through mentorship opportunities, and peer networks to develop their entrepreneurial skill and strengthen their artistic practice.
Artist INC is open to any artist of any discipline, from emerging through established careers. Applicants should communicate how the Artist INC program will support or strengthen their own business practice as well as show promise of participation in their local artist community network.
Programs
Artist INC provides a number of programs that work to reach artists at all levels and locations.
Artist INC Live: The original Artist INC opportunity. When in session, Artist INC Live seminars meet once a week for learning in all the basic Artist INC curriculum.
Artist INC Express: Artist INC Express is a two-day intensive workshop created to address the specific business needs and challenges artists of all disciplines face every day.

What Works: What Works workshops are 90 minutes (free and open to the public) sharing the successful behaviors of artist-entrepreneurs. What Works presentations were co-hosted by Wichita Creatives and Art House 310.
Apply
M-AAA encourages those who self-identify as Black, Indigenous, People of Color (BIPOC); LGBTQ+; and/or disabled to apply.
Deadline
The application deadline is 5 p.m. CST on Jan. 23, 2023. Applicants will be notified by mid-February 2023.
Application Resources