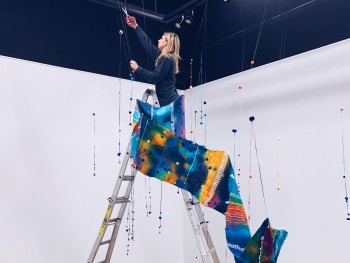 Announcing Amy Huser 2020 Launch Award Artist in Residence
May 27, 2020 | Kate
Amy Huser is a textile installation artist and painter. She received her Master of Fine Arts in Painting in 2020 from Wichita State University. See more about her work here.
The WSU Harvester Launch Artist in Residence is designed for emerging artists the summer immediately following their completion of BFA or MFA program. The $1000 honorarium is awarded by nomination only. The Launch AiR works as a studio assistant to the Riverfest Harvester Arts AiR and receives hands-on experience with Harvester Arts' visiting artists. This year's Launch AiR will extend into the Fall due to COVID-19 disruptions but Amy will continue to work with Riverfest AiR Factory Obscura throughout 2020 and into 2021.
As part of the Launch award, Amy will also receive a scholarship to Harvester Arts' Artist INC professional development program.
Tags: Community