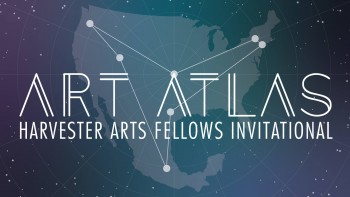 Art Atlas: Harvester Arts Community Fellows Invitational
February 22, 2019 | kate
The Harvester Arts Community Fellowship artists have selected seven artists whose work explores themes mirrored in their own work.
Participating artists include Nydia Blas (Ithaca, NY), Rex Hausmann (San Antonio, TX), H Pearl (The Dalles, OR), Tatiana Svrckova Larsen (Sandy, UT), Andrea Vazquez-Aguirre (visiting artist Mexico City, MX), Audra Wolowiec (New York City, NY), and The Old School Art Collective (various locations).
Come check out the dance performance by Andrea Vazquez-Aguirre at 7:30pm and 8:30pm.
Closing reception: February 22 2019
The Community Fellows curating this exhibit are Cheyla Chandler, Kevin Kelly, Hallie Linnebur, Meghan Miller, Amanda Dickinson Pfister, Kristen Phipps, and Ap Vague. The overarching goal of the exhibit is to broaden the artistic dialog in Wichita by bringing together external influences that span both place and time. Art Atlas is an invitational exhibit at Harvester Arts in Wichita, KS, running January 24 through February 23, 2019.
Exhibition made possible by support from the Knight Foundation Fund at the Wichita Community Foundation and The Arts Council. Harvester Arts is an artist residency program in Wichita, Kansas that provides a thoughtful platform for visual arts experimentation that engages the community through critical dialog and the creation of new work. Visiting Resident Artists are partnered with local artists, student groups, and area creatives to engage with each other's ideas and processes.
Tags: