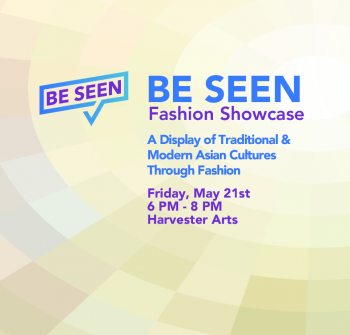 BE SEEN Fashion Showcase TONIGHT!
May 21, 2021 | Kate
In celebration of APIDA Heritage Month, BE SEEN is celebrating with a Fashion Showcase!
They are hosting a LIMITED audience with RSVPs in advance and be livestreaming through the BE SEEN Facebook page for those who cannot make it in-person.
Follow BE SEEN on FB & IG to meet all our applicants!
We will be showcasing fashion entries in 3 categories:
- Traditional cultural garments, jewelry, and accessories
- Original garments influenced by Asian cultures
- Fashion illustrations influenced by Asian cultures
BE SEEN is a project of Sarah Myose of the Harvester Arts Community Fellows Program & is made possible by the Knight Foundation Fund at the Wichita Community Foundation.
Tags: Community, Exhibitions