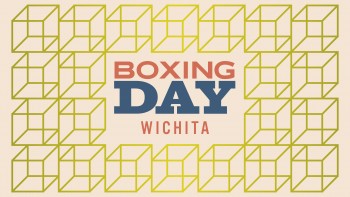 Art meets charity at the first annual ˈbäk-siŋ dā [Boxing Day] Final Friday
December 6, 2017 | kate
Harvester Arts Community Fellows Kevin Kelly and Amanda Pfister will host the first annual
bäk-siŋ dā
Final Friday from 6 to 9 p.m.
December 29 at Harvester Arts
Celebrated the day after Christmas, the secular holiday Boxing Day emphasizes charitable giving. British in origin and dating to the Middle Ages, the tradition has never quite caught on in the United States.
"We liked the idea of Boxing Day and thought we could conscript artists around Wichita to invent our own tradition," Kelly said.
Kelly and Pfister selected six charitable organizations to benefit from the bäk-siŋ dā festivities: Beauties and Beasts animal rescue, The International Rescue Committee, Kansas Food Bank, Catholic Charities Wichita – St. Anthony Family Shelter, the American Red Cross, and the Wichita Area Sexual Assault Center (WASAC).
Each organization provided a wish list for bäk-siŋ dā, which are accessible on the Facebook page for the event. Artists will create non-religious offertory altars for each organization using collected goods. The altars will be revealed at Final Friday on December 29, after which donations will be distributed to the respective organizations.
"Artists are often asked to contribute work to charitable causes," Pfister said. "We thought it would be interesting to create work that directly addresses critical needs in our community."
Donations will be accepted:
Artists will also make the rounds to collect goods and sing "kooky bäk-siŋ dā carols" on December 26. Donors may request a bäk-siŋ dā donation pick-up on Facebook: https://www.facebook.com/boxingdaywichita/

During the Harvester Arts Holiday Market from 11 a.m. to 7 p.m. December 9 at Harvester Arts, 215 N Washington

During the Harvester Arts Holiday Market from 11 a.m. to 3 p.m. on December 16

From 12 - 3 p.m. on December 26 at Harvester Arts

During December Final Friday at Harvester Arts

bäk-siŋ dā donations for WASAC may be dropped off during regular business hours at Lucinda's in Old Town Square.

The Harvester Arts Community Fellows program provides $2500 individual stipends and a platform for creative experimentation and criticism to a group of local artists. Kelly, a painter, and Pfister, a photographer, are members of the first class of fellows. The program is made possible by support from the Knight Foundation Fund at the Wichita Community Foundation.
Tags: