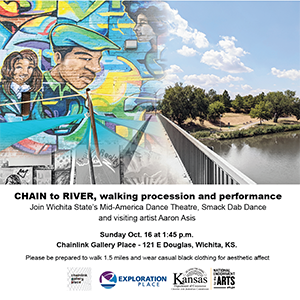 Chain to River
October 11, 2022 | Mina
Chain to River, walking procession and performance
Join Wichita State's Mid-America Dance Theatre, Smack Dab Dance and visiting artist Aaron Asis.
Sunday, Oct. 16 at 1:45 p.m.
Chainlink Gallery Place - 121 E. Douglas, Wichita, KS
Please be prepated to walk 1.5 miles and wear casual black clothing for aesthetic effect.
Chainlink Gallery Place, is an experiential space meant to serve as an oasis for creative activity located in the heart of downtown Wichita. Designed to function as an interactive space, where all are encouraged to share their creativity.
Hours
Friday 5-8PM
Sat/Sun 2-8PM
Chainlink Gallery Place is facilitated by Harvester Arts, in partnership with Bokeh Development, the Wichita Community Foundation and Lifeboat Creative and with support from the Kansas Creative Arts & Industries Commission and Knight Foundation.
Tags: Community, Presentation