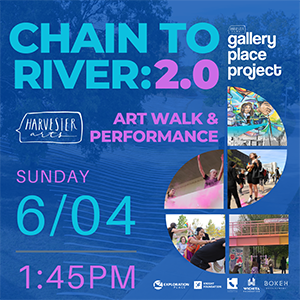 Chain to River: 2.0 Art Walk and Performance
May 23, 2023 | Kristin
Sunday, June 4, 2023
1:45 PM
Admission is free of charge and all ages are welcome. Children must be accompanied by an adult.
Join Harvester Arts in welcoming NYC-based visiting artist Aaron Asis and Smack Dab Dance Lab for this unforgettable interactive art event.
We'll start at Chainlink Gallery Place, 121 E. Douglas. Participants should be prepared to walk approximately 1.5 miles. A golf cart will be available for anyone with mobility challenges. The event will culminate with a creative "happening" at Exploration Gallery Place at Exploration Place, 300 N. McLean Blvd.
Learn more about Chain to River 2.0
Tags: Community, Presentation