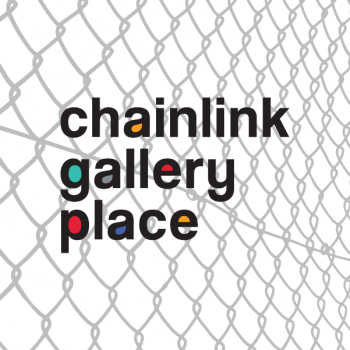 Chainlink Gallery Place to open as interactive art experience
July 24, 2021 | kristin
Chainlink Gallery Place is a place for the community to experiment, be creative, build, lounge, relax, and enjoy. At the location of the former Pop-Up Park on Douglas between Main & Market, the site is being transformed into an experimental space meant to serve as an oasis for creative activity within the heart of downtown. Chainlink Gallery Place is facilitated by Harvester Arts, in partnership with Bokeh Development, Wichita Community Foundation, Lifeboat Creative and with support from the Kansas Creative Arts & Industries Commission and Knight Foundation.
Opening Day
Chainlink Gallery Place will open from 10 a.m. to 6 p.m. on Saturday, July 24 with food trucks, a new mural by Quintis Pinkston (a.k.a. Quack), By the People Market, organized by Mary Alexis Wirths, a camera obscura from Hugo Zelada Romero's Camera for the Commons project, as well as painting activities on the community mural wall. Angelica Chavez's new work, géliquitas, will also be on view on the chain link fence.
Hours
Following its opening, Chainlink Gallery Place will be open to the public from 5 p.m. to sundown on Thursdays and Fridays, and from 10 a.m. to 6 p.m. on Saturdays. Through the summer and into the fall, Chainlink Gallery Place will host ongoing events.
Admission
Admission is free of charge. This summer and fall, Chainlink Gallery Place will host activity on the site, including food trucks, pop-up markets and creative workshops, along with rotating exhibitions. "With downtown Wichita starting to come alive again, we want to re-energize public space through the eyes of Wichitans," said Courtney Bengston, WCF Director of Strategic Initiatives. "Chainlink Gallery Place opens an opportunity for organizations and local talent to creatively activate the site and explore ways to transform areas in our urban core."
More about Chainlink Gallery Place
Chainlink Gallery Place is designed to function as an interactive space, where all are encouraged to share their creativity. Selected muralists will conduct free workshops and assist with hosting public painting sessions. "At Harvester Arts, we believe creative action builds healthy communities," said Kate Van Steenhuyse, Co-Founder and Executive Director at Harvester Arts. "We are excited to have artists and community members working together to build an inclusive space where ideas can take root and evolve, so that the space becomes a place truly of and for the community. Chainlink Gallery Place will be a very active site where anyone can drop in, contribute and flex their creative muscles."
Follow us!
Follow @ChainlinkICT on Facebook and Instagram for updates.
Sponsors
Thank you to our wonderful sponsors! This would not be possible without your support and we heartily thank you!
TITLE SPONSORS: Lifeboat Creative, The Hotel at Waterwalk, The Hotel at Oldtown
FOUNDERS CIRCLE SPONSORS: DJ & Dave Burk, Toni & Bud Gates, Lee & Ron Starkel, Kathy & Frank Van Steenhuyse, Patti Gorham & Jeff Kennedy, Lindsey & Chris DeVries, Ruthie & Jim Gillespie, Nancy & Matt Michaelis.
ANNUAL SPONSORS: B. Young Salon, Stamp Yo Face!, The Arts Council, Trish Higgins Fine Art and those who choose to remain anonymous.
Tags: Community, Exhibitions