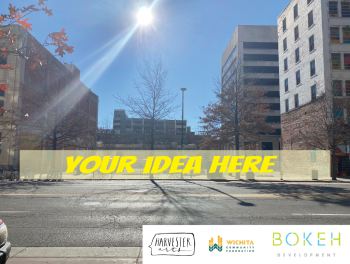 ChainLinkGallery • CALL FOR PROPOSALS
January 13, 2021 | Kate
On behalf of Bokeh Development and the Wichita Community Foundation, Harvester Arts is accepting applications for quick and creative "interventions" placed in two-week intervals on the fence (ChainLinkGallery) in front of the former PopUp Park near Douglas & Market in Downtown Wichita. The ChainLinkGallery is approximately 6 x 120 feet. Applications accepted from individuals 18 and over.
Selected artists will be paid $2500 total for their intervention, this fee will cover any materials that need to be purchased. We encourage you to be creative in your material choices such that you can pay yourself a fair artist fee for your work. One artist per intervention will be selected, the artist is welcome to assemble as many assistants as they like.
EXPECTATION: The selected artists will not be expected to "cover" the entire fence. Rather, we ask the selected Artists to "activate" the location. Our intention for the series is to activate the fence to create buzz and call attention to the location so that the public will be anticipating what's next.
Proposals will be reviewed by Harvester Arts with direction from Wichita Community Foundation & Bokeh Development.
SCHEDULE:
Tags: Exhibitions