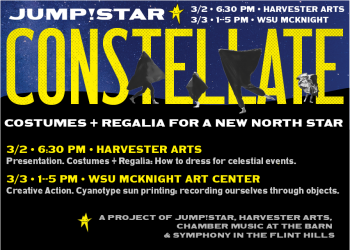 JUMP!STAR Constellate COSTUMES + REGALIA
February 5, 2018 | kate
Part 1: Presentation. How to Dress for Celestial Events
Friday, March 2. 6:30 - 8:30 PM
Harvester Arts. Wichita, KS

Join the JUMP!STAR team to learn, look, and invent the costumes and regalia that will accompany the festivities of this future holiday. New York artist, choreographer and accessory designer Alan Calpe will present on types of overgarments (hats, scarves, sashes, etc.) in various cultures. Creative Director George Ferrandi will speak about festival regalia from around the world and what our Jump!Star costumes may communicate to future generations with reference to Carl Sagan and Ann Druyan's "galactic mixtape," Voyager's Golden Record. Participants will discuss their own personal time-capsule objects that represent who they are at this moment in time and introduce themselves to future generations.
Part 2: Creative Action. Cyanotype Sun-Printing:Recording Ourselves Through Our Objects
Saturday, March 3. 1 - 5 PM
School of Art, Design and Creative Industries at Wichita State's McKnight Art Center. Wichita, KS.
How do we define ourselves? How do we represent those ideas for future peoples? Which objects do you choose to hold that meaning? Bring your special object or a photo of your object and be included in cyanotype (sun-print) fabric printing session that will be done on site. With the help of WSU SADCI students, we will print drawings of the objects culled from our time-capsule conversation onto large bolts of fabric. This fabric will be used to construct costumes for the culminating event and beyond. Imprints of the NOW, projections of THE FUTURE!
This JUMP!STAR event is sponsored by the Hotel at Oldtown, the Hotel at Waterwalk, and WSU's School of Art, Design, and Creative Industries.
Tags: