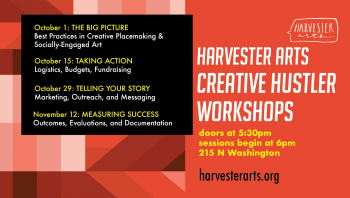 Creative Hustle Community Workshops Registration Open
September 6, 2019 | kate
Are you a Creative Hustler? Want to learn skills to help you be a more empowered cultural producer in your community? Register for our Creative Hustle Community Workshops throughout October and November and get your hustle on!
The Workshops
October 1, 6 PM - Strategic Planning: Best Practices in Creative Placemaking & Socially-Engaged Art
October 15, 6 PM - Action Planning: Budgets & Logistics
October 29, 6 PM - Telling The Story: Marketing, Outreach, and Messaging
November 12, 6 PM - Measuring Success: Outcomes, Documentation & Evaluations
Workshops are open to the public for a $20 fee and limited to 25 participants - scholarships are available. Workshops will be hosted at Harvester Arts at 215 N Washington between 1st & 2nd Streets in Old Town.
Workshops are sponsored by the Kansas Creative Arts Industries Commission.
Tags: Community