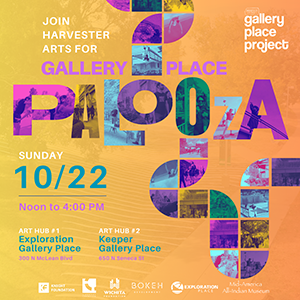 Gallery Place Palooza
October 17, 2023 | Kristin
Harvester Arts is proud to bring the Wichita community together through the power of art. Gallery Place Palooza is a unique interactive art event and performance event that gives participants of all ages and backgrounds the opportunity to collaborate, express themselves, and celebrate the beauty of creativity while activating one of Wichita's most precious resources - our riverfront!
Gallery Place Palooza Event Details
Date: Sunday, October 22, 2023
Time: 12 to 4 p.m.
Admission: Free and open to ALL
Art Hub #1
Exploration Gallery Place at Exploration Place, 300 N McClean Blvd
Art Hub #2
The ALL NEW Keeper Gallery Place at the Mid-America All-Indian Museum, 650 N Seneca, and along the Arkansas River between both art hubs!
Interactive Art Installations
The event will feature TWENTY-FOUR interactive art installations and performances created by local artists, as well as an installation by Harvester Arts Visiting Artist, Aaron Asis, where attendees can become a part of the art creation process. From painting, sculpture building, dance and music performances, to kite building, puppet making and on-site sewing, the 24 artist installations will encourage hands-on participation and foster a sense of shared community artistic expression.
Participating artists include: Aaron Asis ⋆ CallMeIshmael ⋆ Gavin Myers ⋆ Get Ya Color On! ⋆ Handpan Dan ⋆ High Strung ⋆ Janine Shinn ⋆ Lindzey Diana ⋆ Malissa Long ⋆ Marcus El ⋆ Mason Talbott ⋆ Meghan Miller ⋆ Men's Scrapbooking Club ⋆ Mike Miller ⋆ Puppets 4 Nature ⋆ Quintis Pinkston ⋆ Raylio & Ryan ⋆ Ron Palmer ⋆ Sheldon Draper ⋆ SMACK DAB DANCE LAB ⋆ Tayshaw ⋆ The Enchanted Mermaid ⋆ Tiny Hinies Mobile Petting Zoo ⋆ Trae Gresham
"When we bring people together through art — we can create a shared experience that unites us, inspires us, and stimulates our imagination — which can ultimately improve our city and our lives." - Aaron Asis, Harvester Arts visiting artist and designer from Brooklyn, NY.
Live Performances
The event will showcase live performances from local artists, musicians, and dancers including Marcus El, Smack Dab Dance Lab, Gavin Myers and more. Their artistic talents will serve as an inspiration to all attendees and add a dynamic dimension to the event.
Food and Refreshments
Local food truck favorite, Brazita Bites, will be available to satisfy the culinary cravings of attendees. Enjoy a delicious meal or snack while soaking in the creative atmosphere.
Kid-Friendly Activities
Families are encouraged to bring their children as there will be numerous kid-friendly activities and art projects. A great opportunity for children to explore their creativity and imagination while also getting a few pets in at the Tiny Hinies Mobile Petting Zoo.
Community Engagement
Harvester Arts believes in the power of art to create conversations and build connections. Attendees will have the opportunity to share their personal thoughts, ideas, and stories about the community through interactive installations.
Volunteers Needed
Please sign up to volunteer here!
"Art and artists have the incredible ability to transcend boundaries and challenge our perceptions. By bringing art experiences outside of traditional art spaces, we aim to inspire personal growth, foster a sense of wonder, and ignite conversations within our communities." - Kristin Beal, Executive Director, Harvester Arts
Gallery Place Palooza and The Gallery Place Project are made possible with generous support from the Knight Foundation Fund at the Wichita Foundation and with support from our partners at Bokeh Development, Lifeboat Creative, Exploration Place and the Mid-America All-Indian Museum.
Tags: Community, Exhibitions