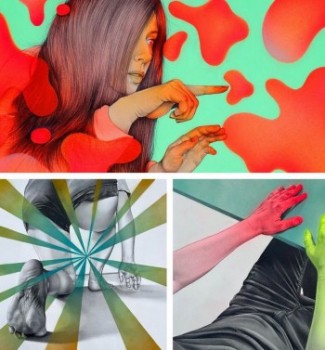 Happening at Harvester - August 2022
August 24, 2022 | Mina
Chainlink Gallery Place: Neptune Frost screening
​Head to Chainlink Gallery Place at 8 p.m. this Thursday, Aug. 25 for a screening of the critically acclaimed, anti-capitalist Afrofuturist film, NEPTUNE FROST by poet and actor Saul Williams and Anisia Uzeyman. This event is FREE + ALL AGES. Parents / guardians, please use your discretion as the film does contain scenes of smoking, nudity, combat / violence.
Check out the NEPTUNE FROST trailer
Final Friday in the Gallery: Pat Patterson, Photo Artist
Topeka 2022: A Photographic Opinion
7 to 10 p.m. on Friday, Aug. 25
As we approach the 20th anniversary of this divisive event, Pat Patterson wants to share the images and experiences of that day. "20 years ago, a strong sense of fear and uncertainty overcame me upon my arrival to "the tent" even though I had worked in law enforcement. My gears quickly changed. Bonita Gooch of The Voice newspaper and I arrived together. We checked in and the crowds had gathered and separated. Obscenities were being yelled in my face but law enforcement assured me that I'd be safe. Navigating the crowd was difficult. The smell of hatred was thick in the air, overpowering those who wanted unbiased love. Never had I experienced in my face opposition. I think at some point in all our lives it's there. Maybe not so obvious. We were able to move around shooting from the hip, and return to Wichita feeling overwhelmed. I was a Witness to the White Unity Rally in Topeka, KS in 2002."
Harvester at the Crown: Ann Martin
Aug. 26 to Sept. 18
Harvester Arts is partnering with Crown Arts Collaborative (CAC) to showcase community artists throughout the year for each show production. For the CAC's production of Calendar Girls, we are delighted to announce that Ann Martin will be our featured artist.
Ann is a hidden gem of an artist in Wichita, and we couldn't be more pleased to showcase a selection of her beautiful figure drawings and paintings at the Crown Uptown Theatre from Aug. 26 to Sept. 18!
Chainlink Gallery Place
Chainlink Gallery Place, is an experiential space meant to serve as an oasis for creative activity located in the heart of downtown Wichita. Designed to function as an interactive space, where all are encouraged to share their creativity.
Summer hours:
Wednesday and Thursday 11 a.m. - 1:30 p.m.
Friday 4 - 7 p.m.
Saturday and Sunday 2 - 8 p.m.
Chainlink Gallery Place is facilitated by Harvester Arts, in partnership with Bokeh Development, the Wichita Community Foundation and Lifeboat Creative and with support from the Kansas Creative Arts & Industries Commission and Knight Foundation.
Upcoming in the Gallery: Hannah Lee Scott
KMUW is proud to present a solo exhibition by their 2022 featured artist Hannah Lee Scott at Harvester Arts next month. Join us for First Friday, September 2, to check out Close Encounters.
Hannah is a local artist who graduated with her Bachelor of Fine Arts in Studio Art from Wichita State University in the Fall of 2014, and is now co-owner of Vortex Souvenir, an art and gift shop located in Wichita's Delano district.
Tags: Community, Exhibitions