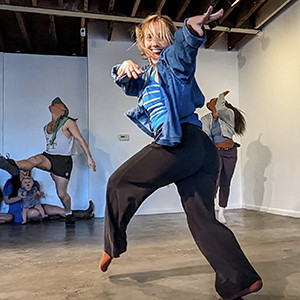 Happening at Harvester - August 2023
July 31, 2023 | Kristin
​ANNOUNCEMENTS
Please join us in welcoming our new gallery manager, Emily Cass!
From Wichita, Emily received her Bachelor's in Art Education from Wichita State University and is currently in their Master's in Arts Leadership and Management program. Early in 2023, Emily began serving as Harvester's intern and quickly realized her knack for arts administration as she jumped into our work. Emily worked as an elementary art teacher for the last two years with USD259.
IN THE GALLERY
Join us FIRST FRIDAY, August 4 from 6-8 p.m. to experience the fantastic work of Seth Blume! GALAXY MAKER is an immersive exhibition that awakens your senses and takes you on an imaginative journey through "The Last Chance Galaxy."
Seth Blume uses multiple materials for his body of work. He tries to inspire his fellow Art Community and future Artists with his ideas and techniques. He has been working on this show for the past four years. He shares his concept through the art of paper cutting, paint, and colored pencils. The idea for the show came to him, as he asked himself, "What makes the Galaxies?" From there his imagination took over to create the story of "Galaxy Maker."
This exhibition is sponsored by The Wichita Arts Council.
GALLERY EVENTS
Hungry?! Have a SNACK! is an experimental multidisciplinary monthly artist showcase that provides a low-stakes opportunity to local artists including musicians, dancers, actors, drag performers, and visual media artists.
August 12
Doors at 6:30 p.m.
Program at 7 p.m. followed by an artist talkback
WAM + HARVESTER ARTS
Harvester Arts' core values are centered around Experimentation, Capacity Building, and Community Engagement and we utilize these values as a framework for our partnership with Wichita Art Museum which includes a variety of programming with local artists and creatives including performances, talks, pop-up experiences and the new Community Gallery, a reimagining of WAM's Cessna Art Investigation Gallery.
BREATHING FIRE
We are celebrating the closing of Meghan Miller's art installation "Breathing Fire" with a dance performance by Smack Dab Dance Lab. Featured choreographer Elleigh McClelland is creating a luscious movement experience to cool the embers of this installation. Join us at 6:30 p.m. on August 25, in WAM's Cessna Art Investigation Gallery.
HARVESTER ARTS + STUDIO SCHOOL
Harvester Arts is partnering with Studio School to present the abstract photography of Max Stewart on, August 4 from 5:30-8:30 p.m. Healing Patterns is a collection of work that Max created as part of his healing process from suffering childhood abuse and depression, finding solace in the lines and patterns in his images.
The First Friday event will include performances by Ballet Wichita Living Statues and Jackson Graham on vibraphone. With food available for purchase from El Sonorense Mexican Food Truck.
The event is free to the public and made possible in part by Prairie Muses, Kansas Creative Arts Industries Commission, National Endowment for the Arts, and the Wichita Arts Council.
GALLERY PLACE PROJECT
The Gallery Place Project includes Chainlink Gallery Place and Exploration Gallery Place and is facilitated by Harvester Arts. Opening as inviting makerspaces for creatives and the community alike to play and experiment with art interventions, Exploration & Chainlink Gallery Place are envisioned as catalysts that activates the arts to establish the river as Wichita's premier public domain creating linkages within the urban core of our city. Want to teach a class of host a creative event? Complete this form.
How to Build a Sculpture in 2 HRS with Mike Miller
Mike Miller is teaching a new, 6-week sculpture class called "How to build a sculpture in two hours" at Chainlink Gallery Place (121 e Douglas) on Sunday evenings from 6:30 - 8:30 p.m., through August 27.
Cost: $120 per person or $20 per class. Drop ins welcome.
The Gallery Place Project is facilitated by Harvester Arts, in partnership with Bokeh Development, the Wichita Community Foundation and Lifeboat Creative and with support from the Knight Foundation.

Tags: Community, Presentation, Exhibitions