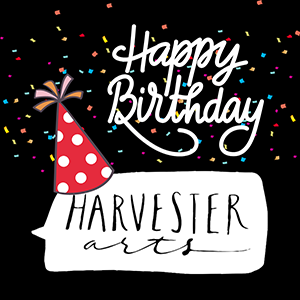 Happening at Harvester - February 2023
February 4, 2023 | Kristin
Changing the Narrative
Join us Friday, Feb. 3 from 6-8 PM for a reception for Changing the Narrative by Lydia Humphreys, an exhibition featuring the work created in a series of workshops in partnership with Wichita Area Sexual Assault Center and with support from Kansas Creative Arts & Industries Commission. Each Workshop focused on the social theories that contribute to victim blaming and addressed the toxic phrases used to silence people who have been subjected to sexual violence. Works in the exhibition feature visual representations of the stories shared, as well as interactive elements for the audience to share their own stories.
This exhibition is a safe space that requires respect and empathy. Please attend to show your support of individuals subjected to sexual violence.
Changing the Narrative will be on display at Harvester Arts through Feb. 24.
Puppet Open Mic
Celebrate the last PUPPET OPEN MIC on Saturday, Feb 18 with invited guest artist, Brett Crandall.
6:30 PM – PUPPET OPEN MIC is open for adults (18+) and is hosted by Candice & The Business Casual. Sign-ups and doors open at 6 PM at Harvester Arts (215 N Washington). What would you do or say if you were a puppet? Take 5 minutes and let your puppet do the talking! If you have your own puppet, BYOP. Otherwise, you can make your own on-site. OPEN MIC also welcomes Brett Crandall Studios' "Murder at the Wolf Hotel" where you can interact with the puppets, play detective, vote on who you think DUN it, and win a prize from Detective Ransom DePew.
8:30 PM – PUPPET KARAOKE is the second half of PUPPET OPEN MIC and is hosted by Hugo Phan. Sign-ups start at 8 PM. Choose a song (via YouTube link), lip-sync, perform acapella, or just sing along in the audience!
"Puppet Karaoke is way more fun than regular karaoke, and a lot more entertaining for the audience. It's like creative play for grown-ups, and it's hilarious," says Shannon Littlejohn, a freelance editor in Wichita.
PUPPET OPEN MIC & KARAOKE
Ages 18+
Saturday, Feb. 18
6:30 PM to 10 PM
Doors open at 6 PM
Tickets are $15 at the door (cash and credit cards accepted)
Sponsored by Harvester Arts, Hotel at Old Town, and Wichita Artist Support Group (WASG)
Ondine
PUPPET OPEN MIC has invited Brett Crandall Studios for an all-ages interactive, performance at Harvester Arts. ONDINE is a New LGBTQIA+ Inclusive Puppet Play based on the myths of Water Sprites. ONDINE tells the tale of how the titular character finds love when he meets a knight errant, Hans. But Ondine must make a pact with the Old One that should his beloved deceive him, Hans will die. As the two set out to marry before the King, Ondine will have to face the harsh, cold injustices of the human realm. Can Ondine and Hans truly live happily ever after? Only with help from Ondine's puppet friends of the deep.
​With careful language crafted into hilarious yet insightful verse, ONDINE gives a lesson in emotional intelligence. LGBTQIA+ representation in media can lead to more empathy and allyship, as well as a much-needed sense of belonging for the LGBTQIA+ Community, especially its youth.
Saturday, Feb. 18
Doors open at 12:30 PM with a station for making your own puppet.
Show starts at 1 PM.
$5 Suggested Donation per family.
Damn Tall Buildings
Presented by Farha Backyarders
Farha Backyarders needed a warm space for a winter concert and Harvester Arts was more than happy to oblige. Come out on Friday, Feb. 24 at 7:30 PM to catch Damn Tall Buildings. $20 dollars at the door, all the money goes to the artists.
"DAMN TALL BUILDINGS IS A DAMN FINE TRIO, MIXING BLUEGRASS, SWING, AND FOOT-STOMPING OLD-TIME MUSIC YOU WOULDN'T THINK POSSIBLE FROM A BAND FROM BROOKLYN."
— NO DEPRESSION
Happy birthday to Harvester Arts
Harvester Arts is celebrating our 9th birthday!
Hungry?! Have a Snack! will be kicking off the festivities with performances, and we'll be sharing more exciting details as the big day approaches.
So, put Saturday, Feb. 25 in your day planner, folks!
Chainlink Gallery Place
Chainlink Gallery Place, is an experiential space meant to serve as an oasis for creative activity located in the heart of downtown Wichita. Designed to function as an interactive space, where all are encouraged to share their creativity.
Winter hours:
Saturday & Sunday 2-6 PM
Chainlink Gallery Place is facilitated by Harvester Arts, in partnership with Bokeh Development, the Wichita Community Foundation and Lifeboat Creative and with support from the Knight Foundation.
Tags: Community, Exhibitions