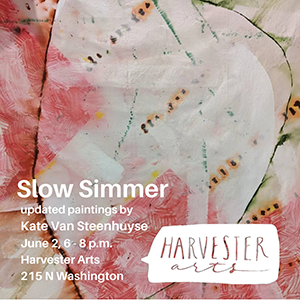 Happening at Harvester - June 2023
June 2, 2023 | Kristin
​In the Gallery
We are very excited to have our co-founder and former executive director in the gallery this month! Join us Friday, June 2 from 6-8 p.m. for the opening reception for Slow Simmer, updated paintings by Kate Van Steenhuyse.
Artist Statement
My paintings and drawings emphasize the process of reacting. Typically this process unfolds over a few months, but for the works in Slow Simmer, these pieces have been in process or revisited after years of first being started. Painting is a negotiation of ideas and decisions taking physical shape: sometimes proud, lovely, or awkward and most often decidedly not heroic. The finished works serve as riddles meant for contemplation, not as vehicles for a singular message or conclusion. At this moment in my life, I am only able to focus on painting in small snippets of time often separated by months away from the studio.
Slow Simmer is a collection of explorations in how the familiar can be pushed to still surprise. I like to keep the viewer, and myself while working in the studio, constantly questioning, thoughtfully present, and even possibly a bit uncomfortable. The goal is to suspend the viewer in a state of active looking to create a prolonged experience where we get to—for a fleeting moment—set aside the notion of knowing and exist simply in a state of being. Slow Simmer represents the attempt to hold this value and this approach to process in concert with long stretches of time. How can we manipulate the familiar to continue to find surprise and wonder?
You can check out Slow Simmer from June 2-30.
Gallery Events
Hungry?! Have a SNACK! is an experimental multidisciplinary monthly performance showcase that provides a low stakes, alternative performance opportunity to local performers including musicians, dance, theater, drag, and visual media artists.
June 10, doors at 6:30 p.m., program at 7 p.m. with talkback after at Harvester Arts
WAM + Harvester Arts
This month at WAM
Harvester Arts' core values are centered around Experimentation, Capacity Building, and Community Engagement and we will utilize these values as a framework for our partnership with WAM which will include a variety of programming with local artists and creatives including performances, talks, pop-up experiences and the new Community Gallery, a reimagining of WAM's Cessna Art Investigation Gallery.
Hallie Linnebur
Drop by WAM'S River Lobby to participate in painting a piano! Artist Hallie Linnebur will be giving new life to an old piano for WAM, and the community is invited to join the fun. This project kicks off June 2 and continues Friday nights June 9 and 30 and July 7. WAM is open late on Fridays until 9 p.m. Connect with artists in the area during fun gallery experiences through WAM's partnership with Harvester Arts. Free to attend.
Meghan Miller
Meghan Miller's art installation "Breathing Fire" is the first exhibition in WAM's Cessna Art Investigation Gallery, a space that will be dedicated to work by local artists in partnership with Harvester Arts. Miller uses paper, fabric, and cardboard to create magical, otherworldly installations based on her observations of the natural world. Join her in the installation for ghost stories around the campfire on June 9 at 6:30 p.m.
Harvester Arts + Studio School
LOST FUTURES
LOST FUTURES an interdisciplinary exhibition, explores the concept that the past is not something that can be neatly left behind, but rather it continues to influence the present in ways we may not even be aware of. Featuring: zel, Adelia Wise, Aspen Everett, Laken Ward, A Lee Haworth, Brendan Himes & Colton Young. Curated by A Lee Haworth.
Reception is 5 - 8 p.m. First and Final Friday, June, 2 & 30, at The Arnold Gallery, located in Studio School. 751 George Washington Blvd, Wichita KS 67211.
The exhibit will be open June 17 and 24 from 5-8 p.m. for extended viewing and by appointment.
Our partnership with the Studio School includes a variety of programming with local artists and creatives including a studio resident that curates exhibitions in the Arnold Gallery, performances and pop-up experiences.
Gallery Place Project
Chain to River: 2.0
Join us for this interactive art walk and performance where we'll ACTIVATE Wichita's downtown and riverfront with ART.
Sunday, June 4, 2023
Start: 1:45 p.m. at Chainlink Gallery Place (121 E Douglas)
End: Exploration Gallery Gallery Place (300 N McLean Blvd)
FREE and open to ALL!
Introducing Aaron Asis (a-cease). Aaron has been working with Harvester Arts for the past year and was selected as a visiting artist because of his background of working with government agencies, non-profit organizations, and community groups to document under-appreciated phenomena and to exhibit work in unexpected places.

Tags: Community, Exhibitions