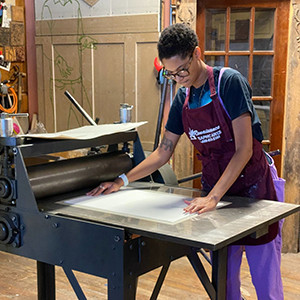 Happening at Harvester - May 2023
May 8, 2023 | Kristin
IN THE GALLERY
We are very excited to have Shaunte' Levine in the gallery this month! Join us Saturday, May 13 from 2:00-5:00 PM for the opening reception for Go'n & Grab Your Little Purse.
Artist Statement:
"One of my favorite stories of a younger Shaunte' comes from my Uncle Lionel and his deep strong voice that would carry across any room we were in as he recounted my silliness. "You know Shawn-tay," he would say in his thick accent, "when you was little, you used to follow me round everywhere and you used ta carry round this purse that would be dragging behind ya cuz the strap was so long and you was too little!!!"
This story, along with the laughter that accompanied it, inspired this current body of work which is an exploration of memory, humor and that silly little girl who still walks with me."
You can check out Go'n & Grab Your Little Purse from May 10-28. This show is supported in part by Wichita Arts Council.
GALLERY EVENTS
WAM + HARVESTER ARTS
Harvester Arts' core values are centered around Experimentation, Capacity Building, and Community Engagement and we will utilize these values as a framework for our partnership with WAM which will include a variety of programming with local artists and creatives including performances, talks, pop-up experiences and the new Community Gallery, a reimagining of WAM's Cessna Art Investigation Gallery.
ARTIST INC WICHITA WORKSHARE NIGHT
Join us on Tuesday, May 9 - doors 6:00 PM | program 6:15 PM at the Wichita Art Museum for the Artist INC WorkShare presentation where artists from this years cohort share stories about their lives, creative processes, and inspirations.
The Spring 2023 Artist INC Wichita cohort has been convening every Tuesday night for two months at Wichita City Arts to cultivate their craft through an entrepreneurial lens, and delve into the purpose of their work and the life they want to build as an artist.
The Artist INC Live program for Wichita has been administered by Harvester Arts since 2018 with support from our local our artist facilitators: Lauren Hirsh, Rob Simon, April Pameticky, Amanda Pfister, and Kevin Kelly. Special thanks to Wichita City Arts for hosting us for our weekly sessions and to the Wichita Art Museum for hosting us for our final workshare session.
The following artists will present Tuesday, May 9 at WAM:
Trisha Coates | Landen Swearingen | Sarah Chavez | Baxter "Slim" Suber | Austin Storie | Araceli Amador | Gavin Myers | Sydney Lenox | A Haworth | Dale Small | Daniel Baird | Aspen Everett | Manasi Kulkarni | Madeline Deabler | An Ri | Brenden Koontz | Richard Dunwoody | Elleigh McClelland | Lori Santos | Allison Stucky | Julian Montes | Chloë Cloud
The Artist INC Live program, created by Mid America Arts Alliance provides professional development in entrepreneurship for artists at all stages of their careers and creates opportunities for networking and collaboration amongst a diverse group of artists.
WAM NIGHTS: ARTIST TALK WITH MEGHAN MILLER
Meet Wichita artist Meghan Miller and learn more about Breathing Fire, our inaugural exhibition in WAM's new gallery space dedicated to regional artists. Miller uses paper, fabric, and cardboard to create magical, otherworldly installations based on her observations of the natural world. The Community Gallery will continue to have rotating exhibitions of work by artists in our region.
Admission is free to the talk and to the museum's galleries.
7 pm Friday, May 19, 2023
HARVESTER ARTS + STUDIO SCHOOL
Add another event to your First Friday agenda and swing by the Studio School's Arnold Gallery between 6-8 PM to check out Diametric Allegories by Gina Searle Groszek.
GALLERY PLACE PROJECT
The Gallery Place Project includes Chainlink Gallery Place and Exploration Gallery Place and is facilitated by Harvester Arts. Opening as inviting makerspaces for creatives and the community alike to play and experiment with art interventions, Exploration & Chainlink Gallery Place are envisioned as catalysts that activates the arts to establish the river as Wichita's premier public domain creating linkages within the urban core of our city. This project not only creates exciting destinations, but also lays the foundation for a larger community arts movement.
The Gallery Place Project is facilitated by Harvester Arts, in partnership with Bokeh Development, the Wichita Community Foundation and Lifeboat Creative and with support from the Knight Foundation.
Tags: Community, Exhibitions