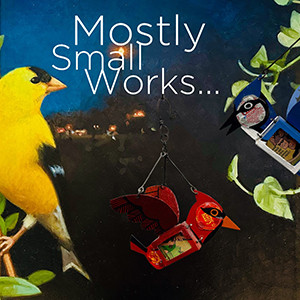 Happening at Harvester - November 2023
November 3, 2023 | Kristin
IN THE GALLERY
Join Trish Higgins Fine Art
Friday, Nov. 3 from 1 to 5 p.m.
Saturday, Nov. 4 from 1 to 5 p.m.
Viewing also available Wednesdays, Nov. 8, 15 and 22 - 4 - 7 p.m. or by appointment, call 316-990-3103.
Including works by Aaron M. Brown, Ann Resnick, Bob Burdette, Sid Garrison, and Debra Smith, "Mostly Small Works" brings together some phenomenal regional and local artists who have created gift sized art. Made in a diverse range of media that includes vintage silk, riveted recycled metal, painting, and drawing, you won't want to miss this gorgeous exhibition and great opportunity to do your holiday shopping.
GALLERY EVENTS
Hungry?! Have a SNACK! is an experimental multidisciplinary monthly artist showcase that provides a low-stakes opportunity to local artists including musicians, dancers, actors, drag performers, and visual media artists. Suggested donation: $10-15
Saturday, Nov. 4
Doors at 6:30 p.m.
Program at 7 p.m. followed by an artist talkback
WAM + HARVESTER ARTS
Harvester Arts' core values are centered around Experimentation, Capacity Building, and Community Engagement and we utilize these values as a framework for our partnership with Wichita Art Museum which includes a variety of programming with local artists and creatives including performances, talks, pop-up experiences and the new Community Gallery, a reimagining of WAM's Cessna Art Investigation Gallery.
Native Creatives Panel Discussion
Friday, Nov. 24
6:30 p.m. | Free
Join Daniel Pewewardy (Comanche), creative director for the exhibition Twice Removed: Native American Life After Relocation, for an entertaining discussion with local Native creatives before the exhibition closes on Sunday, Nov. 26. Panelists include Marc Lujan (DJ Injun Trubl, Seneca), tattoo artist Megan Shelton (Ponca, Creek, Seminole), and filmmaker Rod Pocowatchit (Comanche, Pawnee, Shawnee). Pewewardy is a filmmaker, comedian, adult services librarian at the Wichita Public Library, and Vice-Chair of the Board of Trustees for the Mid-America All-Indian Museum.
GALLERY PLACE PROJECT
The Gallery Place Project is facilitated by Harvester Arts and includes Chainlink Gallery Place and our new Keeper Gallery Place in partnership with the Mid America All Indian Museum. These inviting makerspaces are for creatives and the community alike to play and experiment with art interventions, Keeper & Chainlink Gallery Place are envisioned as catalysts that activates the arts to establish the river as Wichita's premier public domain creating linkages within the urban core of our city.
Art + The Arkansas River
WHAT A DAY! A huge PALOOZA-sized thank you to everyone who made it out to activate our riverfront on Oct 22 - we had a blast with you!
Check out the entire Gallery Place Palooza photo gallery at: https://bit.ly/gppaloozapics
Huge SHOUT-OUT to our phenomenal event photographers who captured the Palooza magic perfectly! Thank you to:
Emmett Joseph | @emartinjoseph
Aileen Rueda-DaCosta | @the.nacera.project
Annelise Muret | @muretcreative
The Gallery Place Projectis facilitated by Harvester Arts, in partnership with Bokeh Development, the Wichita Community Foundation, Lifeboat Creative and Mid-America All-Indian Museum with support from the Knight Foundation.
Tags: