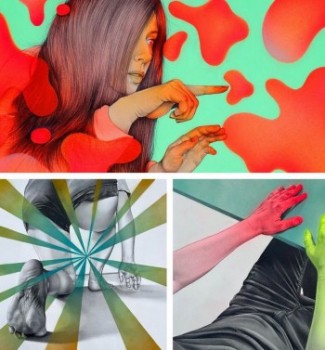 Happening at Harvester - September 2022
September 13, 2022 | Mina
IN THE GALLERY: Close Encounters by Hannah Lee Scott
If you missed the opening reception for this sublime exhibition, Harvester Arts will have some open gallery hours at the end of this month into October to catch it before it's gone. Sept. 26-28 and Oct. 3-5 from 4:30-6:30 PM.
Hannah Lee Scott is a local artist who graduated with her Bachelor of Fine Arts in Studio Art from Wichita State University in the Fall of 2014, and is now co-owner of Vortex Souvenir, an art and gift shop located in Wichita's Delano district. This show is part of KMUW's artist series.
HARVESTER ARTS AT THE CROWN
Harvester Arts is partnering with Crown Arts Collaborative (CAC) to showcase community artists throughout the year for each show production. For the CAC's production of Calendar Girls, we are delighted to announce that Ann Martin will be our featured artist.
Ann is a hidden gem of an artist in Wichita, and we couldn't be more pleased to showcase a selection of her beautiful figure drawings and paintings at the Crown Uptown Theatre until Sept. 18.
Chainlink Gallery Place
Chainlink Gallery Place, is an experiential space meant to serve as an oasis for creative activity located in the heart of downtown Wichita. Designed to function as an interactive space, where all are encouraged to share their creativity.
Summer hours
Wednesday & Thursday 11 a.m. - 1:30 p.m.
Friday 4 p.m. - 8 p.m.
Saturday & Sunday 2 p.m. - 8 p.m.
A City Where I Belong
Our next A City Where I Belong project is a letter writing prompt designed to ask participants to write a letter to the city explaining what they would need to feel like they belong in Wichita. Join us during Open Streets ICT at Chainlink Gallery Place on Sunday, Sept. 18 from 12-5 PM to write a personal letter to the city! What would our city look like if it was designed for our comfort and fun? What needs to be here for us to connect with our friends, meet new friends and want to contribute to making this place our home? Bring your friends and family, and create an aspirational love letter to Wichita.
Off the Chain
Tribal Roots presents Off the Chain at Chainlink Gallery Place on Friday, Sept. 17 from 4-10 PM. This event is 21+ and costs $15 at the gate. There will be multiple DJs ... Just John, Lotus Flow, Lowfredo, Goaty the Kid, hBLACKY, and fire performance with Phlox. This event is powered by Element 5 sound and Hosted by Tribal Roots & Boom Audio.
Chainlink Gallery Place is facilitated by Harvester Arts, in partnership with Bokeh Development, the Wichita Community Foundation and Lifeboat Creative and with support from the Kansas Creative Arts & Industries Commission and Knight Foundation
Save the Date
7PM on Sept. 29 - Hungry? Have a Snack! An artist series at Harvester. Doors open 6:30 PM, talkback following. Cost: $10 suggested donation at door
7 PM on Oct. 1 - Puppet Open Mic (not for kids) at Harvester. Cost: $15
7:30 PM on Oct. 8 - Ten Tiny Dances at Harvester
2PM on Oct. 16 - Chain to River: a guided walking procession at Chainlink Gallery Place to Exploration Place
Tags: Community, Exhibitions