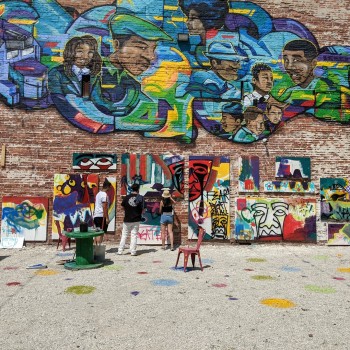 Happy 2021 from Harvester Arts!
December 18, 2021 | Kate
Dear wonderful friend of Harvester Arts,
For the most part, our doors have been closed since March of 2020 — yet so much has happened! We've innovated and responded to the pandemic in a multitude of ways. We launched an outdoor, experimental arts space downtown at Chainlink Gallery Place; coached our Community Fellows to successfully launch and complete new projects; worked as a spearheading member of the Wichita Creatives Emergency Relief Fund, which granted dozens of relief grants in the spring of 2020; completed a session of Artist Inc and launched another; and acted as executive producers of a pandemic web series. We've continued to partner with local, regional, and national organizations to extend opportunities to Wichita-area artists.
Since undertaking a strategic planning process in 2019, we have been reflecting on our evolving mission:
Harvester Arts builds the creative capacity of the community through arts experimentation, public art projects, artist residencies, and professional development for artists.
Capacity building drives everything we do — not just with programming, but planning for Harvester Arts' future, too. We want to expand the creative know-how in Wichita so that when opportunities appear, artists are ready for them. When artists dream of the kind of work they want to do in our city, they need to have the skills, resources and connections to realize those dreams. Our work at Chainlink Gallery Place over the past six months is a source of pride in this area. We've worked with and hired over 50 artists and creatives of all backgrounds, ages, and practices in a myriad of roles from administrators, site workers, and commissioned artists.
The administrative experience with Harvester Arts has led to Kate & Kristin's own exciting opportunities. Kate now serves as the chief programs officer for the Kansas Creative Arts Industries Commission (KCAIC), and Kristin works as Wichita State's placemaking and special projects manager in addition to her role as the ShiftSpace gallery manager.
These changes, along with a desire to make Harvester Arts both more sustainable and equitable, led to prioritizing an overhaul of the administrative structure of the organization during these pandemic times. The first step has been the creation of a diverse artist delegate group to serve as a foundation of artist advisers. Armando Minjarez worked with the group over the past year to develop a model for artist-led programming and administration at Harvester Arts. We are excited to finalize these plans over the next few months with the help of our board. We know it's the right time to expand the arts leadership pipeline in Wichita to provide area creatives with opportunities to utilize the Harvester Arts platform in building professional experience that can advance their own creative pursuits.
During this season of giving, we ask you to partner with us in this critical work by continuing your financial support of Harvester Arts. Every penny you give makes Wichita a more vibrant and creative community — that's real impact! You can donate here to continue to support these efforts for our creative community.
We hope to see more of each other in 2022. Until then, the staff, volunteers, and board of Harvester Arts hope you enjoy a magical holiday season enriched with the gifts of the arts.
Sincerely,
Emily Christensen, President
Harvester Arts Board: Marquetta Atkins, Cheyla Clawson Chandler, Ann Keefer, Lela Meadow-Conner
P.S. Applications for the upcoming session of Artist Inc are due January 14, 2022! Please spread the word to any musicians, dancers, writers, performers, or visual artists who are excited to focus time and energy on mapping a path for their creative career.
Tags: