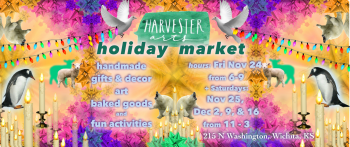 Harvester Arts Holiday Market is back!
November 14, 2017 | kate
HARVESTER ARTS HOLIDAY MARKET
Shoppers:
The market will be open Final Friday, Nov. 24 from 6-9 pom and then each Saturday through December 16th from 11am-3pm. Holiday themed items as well as a curated gift shop of artworks and handmade goods.
Artists:
You can drop off items on Monday, Nov 20th from 4-7 pm.

We are inviting all area creatives to make Christmas decorations including ornaments, wreaths and baked goods to be displayed and sold at Harvester Arts for a big holiday sale within a magical and immersive Christmas installation! This year, we are also welcoming artists to create works for a curated gift shop. Harvester will split the profits of all sales 50/50 with participating creatives.
Tags: Community