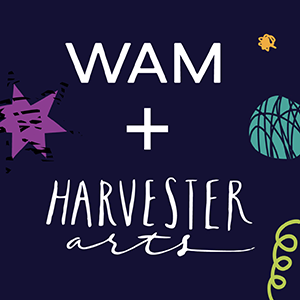 Harvester Arts + WAM: announcing our new partnership! Plus several events this weekend.
February 22, 2023 | Kristin
WAM and Harvester Arts kick off new partnership Feb. 25 during Family ArtVenture
The Wichita Art Museum and Harvester Arts announce their new partnership, emphasizing the involvement of Wichita artists in the performing and visual arts, that will kick off during Family ArtVenture: We Love Colors on Saturday, Feb. 25 at WAM, 1400 West Museum Blvd.
For the first time, Family ArtVenture, WAM's all-ages program, will include event components orchestrated by Harvester Arts, an organization with strong relationships in Wichita's creative community. Saturday's Family ArtVenture will feature dance performances crafted in response to WAM's newly acquired painting Sunday Kind of Love by artist Robert Peterson. The dance is choreographed by Harvester Arts' Managing Director Mina Estrada, who also is a dance artist, and performed by dancers Aviance Battles and Sheldon Mba. Battles is a company member of the Regina Klenjoski Dance Company, and Mba is Assistant Professor of Music Theatre and Dance at Friends University.
WAM's desire to engage more with local artists led to the partnership between the City-owned art museum and Harvester Arts, a 9-years-young organization that helps to foster opportunities for Wichita artists, including performances and exhibitions.
"We want to tap into Harvester's expertise," said Molly McFerson, WAM's Director of Learning, Engagement and Partnerships, explaining why the museum selected Harvester Arts to collaborate on programming. "We're the City's museum—the City owns the building and the collection—so let's show our commitment to the City and partner with a local organization like Harvester Arts, who also is dedicated to our city and to Wichita's creative community."
Looking ahead to future collaborations, Harvester Arts will facilitate a Spring 2023 reinstallation of the Cessna Art Investigation Gallery, located on the museum's first floor. WAM's continued goal of having local artists represented in the galleries will be realized in May when sculptor Meghan Miller, a graduate of Wichita State University's School of Art, Design and Creative Industries, becomes the first artist selected by Harvester Arts to be featured in the newly reimagined Cessna Art Investigation Gallery.
"We're a conduit to the local arts community," said Kristin Beal, co-founder and executive director of Harvester Arts. "Wherever we are, we're there to bring in local artists. That's our specialty. That's how we're raising the creative capacity of Wichita."
For more information about the collaboration between Harvester Arts and WAM, email info@harvesterarts.org or education@wichitaartmuseum.org.
Saturday, February 25
Family ArtVenture: We Love Colors Event Schedule
Artmaking for All Ages
11 a.m. to 3 p.m.
Living Room and Art Studio
Dance Performances
11:30 a.m. and 1 p.m.
M.C. Naftzger Gallery
Performances are in response to the newly acquired painting Sunday Kind of Love by Robert Peterson on view in the exhibition Love for All My Life
Choreographed by Harvester Arts Managing Director and dance artist Mina Estrada and performed by dancers Aviance Battles and Sheldon Mba
Storytime in the Galleries
12:30 p.m. and 2 p.m.
Meet in the S. Jim and Darla Farha Great Hall
Family ArtVenture will take place at the Wichita Art Museum, 1400 West Museum Blvd. Admission to the all-ages event, and general admission to the galleries, is free.
Sunday Kind of Love
Saturday, Feb. 25 at 11:30 AM and 1 PM
Wichita Art Museum
Dancers Aviance Battles and Sheldon Mba, in collaboration with dance artist Mina Estrada, have created a dance in response to artist Robert Peterson's newly acquired work "Sunday Kind of Love," which he describes as a painting that reflects "a side of Black that isn't shared enough—one that is strong and resilient, yet gentle." The dance will echo this sentiment while also exploring the elements of color, light, and symbolism in this exquisite work.
You can see this dance on Saturday at Wichita Art Museum during the Family ArtVenture. The event is free and open to the public.
This weekend at Harvester Arts
It's our birthday!!! Come celebrate with us ... Teri Mott will be spinning the tunes, Meghan Miller is baking us a cake, and we want to share it all with you! Join us at 7:30 p.m. on Feb. 25 at Harvester Arts.
Hungry?! Have a Snack! is happening right before the festivities begin. The program starts at 6 p.m. with some fantastic performances by Elleigh McClelland, Gavin Myers, and Nick Wetta.
Tags: Community