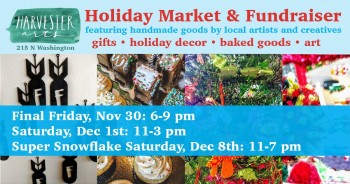 Holiday Market 2018 is here!
November 25, 2018 | kate
Stock up on kooky, kitschy, and one-of-a-kind holiday decorations and gifts at the third annual Harvester Arts Holiday Market, which kicks off on Final Friday, November 30, from 6 - 9 p.m.
The market will open again on Saturday Dec. 1 from 11 a.m. - 3 p.m. and Saturday Dec. 8 from 11 a.m. - 7 p.m.
The Holiday Market includes art, decor, gifts and baked goods made by local artists including Harvester Fellows, Linnebur & Miller, Amanda Dickinson Pfister and Kristen Phipps and doubles as a fundraiser for Harvester Arts.
Tags: