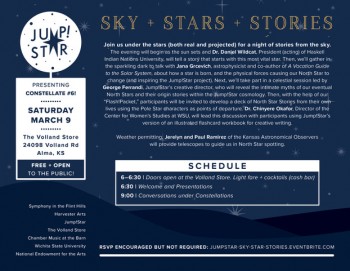 Jump!Star Constellate 6: Sky + Stars + Stories
February 16, 2019 | kate
Join Harvester Arts, Symphony in the Flint Hills, and The Volland Store under the stars (both real and projected) for a night of stories from the sky.
The evening will begin as the sun sets and Dr. Daniel Wildcat, President (acting) of Haskell Indian Nations University, will tell a story that starts with this most vital star. Then, we'll gather in the sparkling dark to talk with Jana Grcevich, astrophysicist and co-author of A Vacation Guide to the Solar System, about how a star is born, and the physical forces causing our North Star to change (and inspiring the Jump!Star project). Next, we'll take part in a celestial session led by George Ferrandi, Jump!Star's creative director, who will reveal the intimate myths of our eventual North Stars and their origin stories within the Jump!Star cosmology. Then, with the help of our "Flash!Packet," participants will be invited to develop a deck of North Star Stories from their own lives using the Pole Star characters as points of departure. Dr. Chinyere Okafor, Director of the Center for Women's Studies at WSU, will lead this discussion with participants using Jump!Star's version of an illustrated flashcard workbook for creative writing.
Weather permitting, Jerelyn and Paul Ramirez of the Kansas Astronomical Observers will provide telescopes to guide us in North Star spotting.
______________________________________________________________
6:00 - 6:30 Doors open at the Volland Store. Light fare and cocktails (cash bar)
6:30 Welcome and Presentations
9:00 Conversations under Constellations
RSVP encouraged but not required: https://jumpstar-sky-star-stories.eventbrite.com
DIRECTIONS: The Volland Store is located on Volland Rd close to the RR tracks, not at a distance from them (as Google maps indicates), but rather just one block off of Old K-10 Highway that connects Alta Vista and Alma. There is a map and driving directions at thevollandstore.com. Plan ahead as GPS is not reliable in the country!
Hosted by The Volland Store, Symphony in the Flint Hills and Harvester Arts.
Tags: