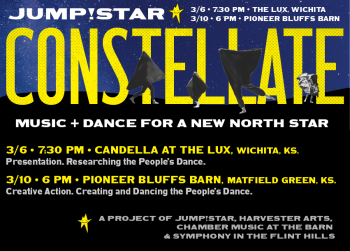 JUMP!STAR Constellate MUSIC + DANCE
February 5, 2018 | kate
Constellate Two focuses on MUSIC + DANCE, and will be held in a series of two events:
Part 1: Presentation. MUSIC + DANCE: Researching the People's Dance
Tuesday, March 6. 7:30 - 9:30 PM
Candella at the The Lux. Wichita, KS
For this Constellate, New York artist and choreographer Alan Calpe will work with local performers to develop the choreography for our culminating event. Attendees will be introduced to the 11+1 potential future pole stars, and asked to help identify signature movements and gestures that will accompany and define these characters. Through live performances from local dancers of many genres and traditions, we will be inspired by a variety of existing dance styles as we look ahead to develop our own JUMP!STAR choreography for a contra-style dance. Dr. Dina Bennett (Associate Director and Ethnomusicologist of the Mulvane Art Museum at Washburn University in Topeka, KS) will talk about traditions of African American musical expression (and some surprising connections to contra dancing!)
You'll meet the entire JUMP!STAR creative team: musicians Jee Young Sim (Berlin), Mirah (New York City), Jherek Bischoff (Los Angeles); creative director George Ferrandi (New York City); choreographer Alan Calpe (New York City); and the remarkable local team members who are the heart of this project. Join us in inventing the rhythms, sounds, and movement that will accompany the changing star. Learn how you can get involved as we create this future holiday!
Part 2: Creative Action. MUSIC + DANCE: Creating and Dancing the People's Dance
Saturday, March 10. 6:00 - 8:30 PM
Pioneer Bluffs Barn, Matfield Green, KS
Join us for a JUMP!STAR themed contra-style dance! For the first half of the evening, an experienced contra-style caller will lead us through traditional mixer-style dances. After we laugh and dance through a foundation of contra-style moves, we'll begin to incorporate new gestures based on celestial movements developed in the previous MUSIC + DANCE event. These dances are another way we will communicate and celebrate the new traditions of JUMP!STAR. Come dance and celebrate with us! Food and drink will be available for purchase.
This JUMP!STAR event is sponsored by the Hotel at Oldtown, the Hotel at Waterwalk, the Candella at the Lux, and Pioneer Bluffs.
Tags: