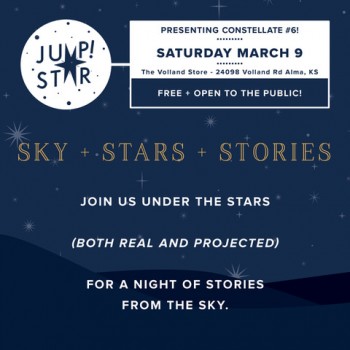 Jump!Star to Participate in Diverse Women's Summit
February 22, 2019 | kate
Jump!Star with Harvester Arts and the WSU Center for Women's Studies invites presentations for the Creative Concourse of the Diverse Women's Summit.
March 8, 2019.
208 Hubbard Hall. WSU.
9:00 – Welcome by Dr. Chinyere Okafor
9:15 – George Ferrandi
9:45 – Jana Grcevich
10:10 – Program
10:30 – Griots
11:30 – JumpStar Stories/performances Annie Jump Cannon at the Harvard College Observatory
Contrary to popular thought, Earth will have about a dozen different North Stars over the next few millennia. Jump!Star is an initiative named in honor of Annie Jump Cannon (1863-1941), a Deaf American scientist known as the "Census Taker of the Sky." She was one of the "Harvard Computers" - a team of female astronomers who worked behind the scenes in the 2Harvard College Observatory. Annie came up with the mnemonic Oh Be A Fine Girl Kiss Me, which students in astronomy still use today to remember the Harvard Classification Scheme for categorizing stars. Annie's legacy continues to grow among scientists today. The American Astronomical Society presents an annual award in her name to distinguished female astronomers.
For International Women's Day, Astrophysicist and co-author of A Vacation Guide to the Solar System, Jana Grcevich will discuss star matter and makeup, and the physical forces that prompted the Jump!Star project.
Jump!Star's creative director, George Ferrandi, will introduce the project's namesake, extraordinary astronomer Annie Jump Cannon, as well as reveal the intimate myths of our eventual North/Pole Stars and their origin stories within the Jump!Star cosmology.
Additionally, we invite members of the WSU community to connect with the archetypal North Star characters by presenting your own North Star stories, images, poems, monologues, videos, songs or performances using the attributes of any of them as a point of departure. Click here for more information about the characters and prompts.
All presentations must be 7 minutes or less.
Please tap into your star power and contribute to the collective vision for our inclusive future as it relates to our distant cousins, the Pole Stars.
.
Points of Departure from the North Stars developed by WSU School of Art, Design & Creative Industries Community & Social Practice students in SB JUMP!STAR Project, ARTS 591I.
Email your entries to Kristin Beal at kristin.beal@wichita.edu by 5pm, March 6.
Tags: