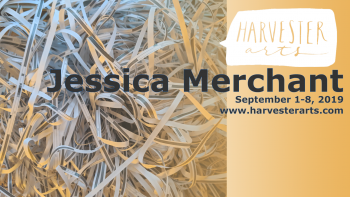 nest by Jessica Merchant
August 22, 2019 | Kate
​In residence September 1-8
reception Friday, September 6, 6:00-9:00 PM
"In my week at Harvester Arts, I'll be building a nest on a human scale as a way of thinking about home, shelter, and interdependence. The nest is a potent and attractive concept, being at once fragile and enduring, a form formed by and to the body it will house, made of the materials at hand. My goal as an artist is to create an environment for my viewers that reflects the meditative experience I have while making, and a nest neatly invokes visions of methodical hard work as well as thoughtful repose." - Jessica Merchant
The public is invited to bring nest-building materials - shredded paper scraps, yarn, string, soft materials, etc. and assist in forming the nest during the week of Jessica's residency or at the reception on Friday, September 6th from 6-9:00 PM.
Jessica Merchant is a multimedia artist living in Madison, WI. A product of academia, intergenerational learning, and the rural Midwest, she is well-practiced in drawing, painting, printmaking, textiles, bookbinding, and sculpture. Drawing on these skills, Jessica creates contemplative works meant to evoke in the viewer emotions and sensations experienced by the artist during her creative process. Using her medium's inherent qualities as a guide, she combines play and methodical process to manipulate familiar and perishable materials, creating images and objects that demonstrate the flexibility, mutability, and endless expressive potential of the ordinary. Through this work, she invites viewers to consider their own relationships with and enjoyment of the rich physical world around them.
Jessica has exhibited in the United States, internationally, and completed residencies at Vermont Studio Center and Penland School of Craft. A graduate of UW-Madison with an MFA in printmaking, Jessica is currently a member of SGC International and Vox Populi Print Collective. See more about Jessica: http://jessicamerchant.squarespace.com/.
Following her time in Wichita, Jessica will travel north to Matfield Green where she is the final resident with the Tallgrass Artist Residency.
Tags: