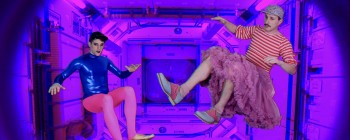 Out There by Princess - Tuesday, 10/22 7 PM
October 2, 2019 | Kate
Out There is an immersive live music video sci-fi narrative. Using stop motion animation and archival photos, Out There explores toxic masculinity and the role men ought to be playing in the current cultural reckoning of misogyny. The power of the Divine Feminine is explored through collaborations with JD Samson, TEEN and visual artist Jennifer Myers.
Tuesday, October 22
Doors at 6:30, performance 7:00 pm
Harvester Arts, 215 N Washington between 1st & 2nd in Old Town
Suggested $10 donation at the door
In the age of waning attention spans, an internationally-recognized artist and a queer musician have joined forces to create a love letter to, of all things, the full-album format. It's also a critique of masculinity in a time of reckoning for men.
Alexis Gideon and Michael O'Neill are Princess, a performance art band with a new "sci-fi feminist rock opera" that is performed live alongside an immersive narrative video in museums and rock clubs alike. Between the two of them, the duo has shared bills with artists as diverse as William Kentridge and Peaches, and they bring all of that experience to this project.
Their new concept video album, Out There, is being supported by two national tours and the release of three video singles over the course of a month, starting October 4th. READ MORE HERE.
DIYMCA and ICT Fest are co-sponsors and supporters of the event.
Tags: