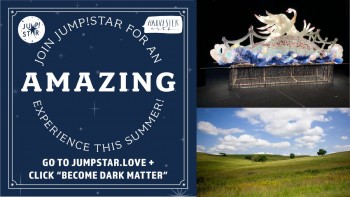 Performer Volunteers needed for Symphony in the Flint Hills Jump!Star
April 16, 2019 | kate
Communities across the country have been working with Jump!Star's creative director, George Ferrandi for the past 18 months building 12 large, lightweight illuminated sculptures made of wire and paper. We are seeking over 100 (age 18 +) participants as each sculpture requires 8-12 handlers to carry the sculptures during a performance on the Kansas prairie. Participants are referred to as "Dark Matter" since the sculptures represent stars, and dark matter is what keeps the actual stars in space….
DO YOU WANT TO BE DARK MATTER FOR AN AMAZING, OTHERWORLDLY EVENING EXPERIENCE ON THE BEAUTIFUL, ROLLING FLINT HILLS?
This Jump!Star performance will happen on June 15th at this summer's Symphony in the Flint Hills signature event on Irma's pasture near Bazaar, KS.
Performers will have free admittance to this highly coveted event + receive a commemorative T-shirt!
• You'll be required to attend one full dress rehearsal on June 14th On-site in the Flint Hills.
• The live performance involves two 20 - 30-minute sessions of processing with the sculptures after dark on June 15th. (Rain date 16th.)
The sculptures are very lightweight illuminated constructions, so not heavy to lift, but are basically a big paper bag we are taking to Tornado Town, so there may be some wind to deal with, in addition to gravity. We've been told the wind dies down after dark, so we are counting on that!
*volunteers must be 18+
Tags: