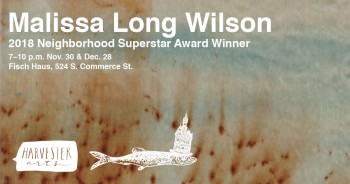 SUPERSTAR ARTIST MALISSA LONG TRANSFORMS TEXTILES
November 25, 2018 | kate
Fisch Haus and Harvester Arts announce fiber artist and designer Malissa Long as the second recipient of the Neighborhood Superstar Award. The prize is awarded every other year to a deserving creative individual working outside the mainstream Wichita arts community.
2018 Neighborhood Superstar Final Friday Receptions
7–10 p.m. Nov. 30 & Dec. 28
Fisch Haus, 524 S. Commerce St.
Upcycle Fashion Happening
Clothing swap, upcycle market & make-and-take tote workshop
Final Friday December, 6-9 p.m.
Fisch Haus, 524 S. Commerce St.
Long incorporates upcycling into her work, creating bottle-cap jackets, necktie dresses, and garments embellished with aluminum accents sourced from discarded cans.
"I want to help people to see the their environment differently and discover their creativity," said Long. "I'm excited to use this award to grow awareness of fiber art, upcycling and surface design."
Long will be the exhibiting artist at Fisch Haus in December and January. Her show will be open for Final Friday receptions on Nov. 30 and Dec. 28. An upcycle fashion "happening" with a clothing swap, market and make-and-take tote bag workshop will take place from 11 a.m.–3 p.m. Dec. 15, also at Fisch Haus.
A Texas native, Long grew up with a mother and grandmother who were seamstresses. She studied pattern making in college and has worked in a fabric store and as a commercial seamstress. Long began hand stitching after a health setback she experienced shortly after her move to Kansas three years ago. She serves as the textile area lead and at-large director for MakeICT, a community makerspace.
The Neighborhood Superstar Award confers access to work and exhibition space, assistance with promotion, a scholarship for the Artist INC professional development series held at Harvester Arts and a $1000 equipment purchase award.
"We wanted to create a bridge and give access to larger audiences for artists in this community operating outside of the typical academic or established networks," said Kristin Beal, program director for Harvester Arts.
The first Neighborhood Superstar Award went to the filmmaker R.G. Miller, who was also the impetus of the award. The documentary "Double Digits: The Story of a Neighborhood Movie Star," which screened at the Tallgrass Film Festival in 2015, tells the story behind Miller's inventive YouTube narratives.
"When I saw the film, I was stunned to learn that there was such an extraordinary local artist that nobody seemed to know," said Elizabeth Stevenson, Fisch Haus director. "We wondered if there were any more equally accomplished creative people in Wichita working in relative obscurity, so we decided to look into it."
A new "superstar" is named every other year. Nominations for the third bi-annual Neighborhood Superstar award will open in January 2020.
Tags: