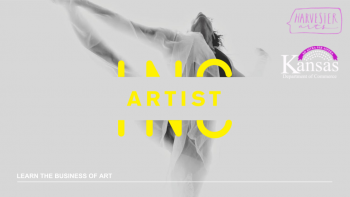 What Works Workshop + Artist Inc Applications open!
October 29, 2018 | kate
​Artist Inc Applications are open until 5 PM on Friday, November 9th 2018. Click here to apply now!
Join us for a What Works Workshop on Monday, November 5th at 6 PM at Harvester Arts.
The event is free and open to the public but we do request you RSVP here.
You'll learn more about how Artist INC is designed to help art professionals learn the tools of the trade and become successful working artists in their communities, facilitated by Artist INC of Kansas City and Harvester Arts.This free workshop is open to the public and designed for artists and creatives of all practices(visual, performing, filmmaking, social, creative writing, culinary)and we'll discuss topics like goal setting and planning, portfolio careers, multiple income streams, and much more.
What Works Workshops are an introduction to the Artist INC approach to goal setting and crafting a creative career that works for you! Join us for conversation and ideas about ways to focus your time and energy to sharpen your goals as an artist! If you are thinking of applying for our Artist Inc program, this is a great introduction to attend.
This programming made possible by support from the Mid-America Arts Alliance and the Kansas Creative Arts Industries Commission.
Tags: