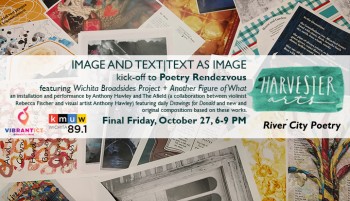 A Celebration of Text + Image for Final Friday October 2017
October 11, 2017 | Kate
IMAGE AND TEXT|TEXT AS IMAGE
kick-off to Poetry Rendezvous
featuring Wichita Broadsides Project + Another Figure of What
An installation and performance by Anthony Hawley and The Afield (a collaboration between violinist Rebecca Fischer and visual artist Anthony Hawley) featuring daily Drawings for Donald and new and original compositions based on these works.
Final Friday, October 27, 6-9 PM
Free and open to the public
On view will be the community-based visual arts & poetry collaboration Wichita Broadsides Project and text-based Drawings For Donald from Nebraska artist Anthony Hawley. A performance of "The Afield" a multidisciplinary collaboration between violinist Rebecca Fischer (Chiara String Quartet) and Anthony Hawley will make a Wichita debut on Final Friday. This evening will also will kick off a weekend national Poetry conference called Poetry Rendezvous with poets from across the country coming together to share readings and ideas. See the full (tentative) schedule here on the Rendezvous Facebook page.
Tags: